I'm not going to lie, one of the things I was most excited about with this whole baby thing was getting to dress the baby up in cute clothes. I don't care if you have a baby girl or a baby boy - baby clothes are the cutest!
It definitely played into our decision not to find out Thatbaby's sex. "If we don't know what we're having, people won't buy us clothes - and then WE'LL get to pick out his outfits!"
This plan backfired after he was born and the clothing came pouring in. Honestly, we didn't need to buy him a single outfit until he was around 6 months old. He had a full wardrobe gifted to him.
Which isn't to say that we didn't buy him clothes anyway! And this is a good time to share with you our layette and favorite brands.
I'll also share with you some of my clothes advice - everything I read said not to stock up on newborn clothing. LIES! The first month Thatbaby literally fell out of anything sized 0-3 months. And even after that, it wasn't until 5-6 weeks when he could really wear them. We definitely made use of the newborn sized clothing.
In the beginning, we loved
gowns
for sleeping.
T-shirts!
I know onesies are all the rage, but I only like them if they're cute. Otherwise, t-shirts are far more functional. I love the ones from Under The Nile for early days. (You'll notice I tend to prefer really soft shirts). Now I love the polos from The Children's Place.
So why t-shirts? Well, at first, they're great because they don't bother the umbilical cord that's still attached and drying out. They also make it really easy to do those diaper changes. (Are you getting the picture that there are a lot of diaper changes at first?) Now I prefer t-shirts because they're much easier to get on a wiggly baby who doesn't want to sit still for very long. We always have at least 6 t-shirts in his wardrobe.
Bottoms
- I totally overlooked this because of the whole "just in a t-shirt and diaper" phase. But eventually I realized we should probably put pants on Thatbaby when we left the house.
I love BabyGap and OshKosh for bottoms - jeans, overalls, shorts. During the first few months we went for soft "sweat pant" like pants. I feel like I never have enough bottoms. I would recommend at least 6 pair.
Rompers
- I prefer these to onesies. They're like a whole outfit, but connected! Which makes them easy to get on and off. They're great for daycare, roadtrips, or anytime you need something super comfy.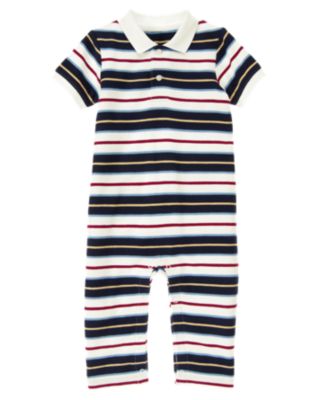 Sleepers
- I know, you'll never guess what we use these for!
Thatbaby sleeps in these every night - unless it's REALLY warm, and then he's in a onesie (see - they do have a purpose!) We love love love kickypants for sleepers. Or really, just about anything - they are so incredibly soft. He has sleepers, rompers, onesies... I think I would wear these if they had them in my size. We have 4-5 sleepers in every size and always end up picking up more.
Socks -
We had a heck of a time finding socks that would stay on. Thatbaby is a sock-kicker-offer. And then we found Robeez. These things are great. They're the only socks that stay on.
We have a ton of socks. I was sure we were going to lose them, but we haven't lost a pair yet.