As I've mentioned before, I'm not fantastic at spending money on myself. The one exception is when I get gift cards, because they can't go in to my bank account and be used to pay for gas, groceries, or my car. So
Thatboy
has caught on and has spread the word to his family to give me gift cards for the holidays.
I've spent the past few weeks using my lunch breaks to go shopping and I've
accumulated
quite the stash.
First I hit up
BCBG
.
You may recognize this skirt from my pictures from Harvard's party. In fact, I got it specifically to wear to Harvard's party since most non-work days I look in my closet with that "what am I going to wear" dread. And especially what am I going to wear to a cocktail party? I love the zipper in the front, and
Thatboy
pointed out it can also be worn in the back for a more conservative look.
Then I hit up my go-to, Banana Republic: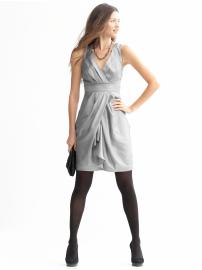 A new party dress! Because I always need nice dresses for weddings and parties. Although I'm getting to the age where I don't have a wedding every week. In fact, 2010 was the first year we didn't attend a wedding since 2003.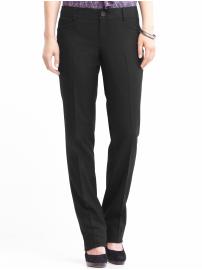 I also got a new pair of wool black pants. Because I can always use work pants. I wear a suit to work every day, so black pants are a given staple in my wardrobe. And wool, because on most days my office barely gets above a balmy 50 degrees. The
airvent
above my desk is especially helpful at keeping my ice from melting.
And along that same vein, I also hit up
Macys
for another pair of non-black work pants.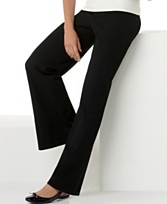 I know they're black in this picture, but the ones I picked up were grey. And I LOVE them. I love the way they fit, I love the way they feel, and I love the way they look.
Maybe it is important to treat yourself every now and again. Like with a creamy, lobster dish loaded with cream, butter, and Parmesan. It's another Valentine's Day treat!
And this one calls for cooked lobster, so you can cook it anyway you like - including my favorite boiling method.
Lobster

Thermidor
(From the Fannie Farmer Cookbook)
2 1/2 Tbsp butter
1/4 cup sliced mushrooms
3/4 Tbsp flour
1/2 cup heavy cream
1 Tbsp dry sherry
1 cup cooked lobster
salt
2 Tbsp grated Parmesan Cheese
1. Preheat oven to 450. Butter a shallow baking dish. Melt 1 1/2 Tbsp butter in a saucepan. Add the mushrooms and cook until soft. Then remove mushrooms from heat and set aside.
2. Melt the remaining Tbsp of butter, stir in the flour, and cook until smooth and blended.
3. Slowly stir in the cream and cook over low heat, stirring until the sauce is smooth and thickened.
4. Add the sherry
and
cook another minute. Remove from the heat and add the lobster and salt. Spoon into the baking dish, sprinkle with cheese, and bake 10 minutes.