When Thatbrother was a teen, he stuck a bumper sticker on his car that said "Soccer Mom." Why? Because every time he looked at it, he would smile and think "I'm not a soccer mom!" That's kind of how I feel about cold weather running.
Don't get me wrong, it gets cold here - morning runs are in the high 30s, low 40s in the winter. But I don't kid myself that those temperatures are in any way comparable to conditions other winter runners are used to.
Even still, I do have my favorite winter gear and I'm sharing it with you!
Let's start from the top down. It's funny, in the summer a hat is a necessity for keeping the sun off your face, in the winter you need a hat to keep all that warmth in. My personal favorite is my
Under Armour Fleece Beanie
.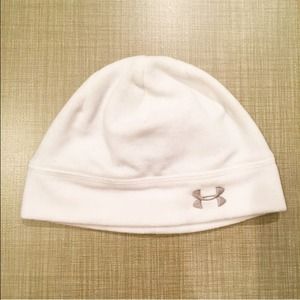 So much better than just a regular beanie because the inside lining is moisture wicking - because even when it's cold outside, you still sweat.
Moving down we start getting into fleece. I love my
hyper-warm long-sleeve
from Nike.
It's lightweight, super warm, and has the perfect little thumb holes so that my entire arm is covered and it doesn't rise up.
Speaking of thumb holes, gloves are a must. Fingers get so very cold. And you need something lightweight. The
Brooks Essential Gloves
are perfect for that.
For bottoms, this is not the time to break out capris. Running tights are the way to go. Fleece lined being the best for cold weather. I can't find a link, but Target carries a great C-9 fleece running tight, and rumor has it they're on clearance right now!