I'm not sure when I discovered Arroz con Pollo. I grew up in a pretty small town without a lot of ethnic diversity when it came to restaurants (or people for that matter).

I do know, however, that I discovered I could make Arroz con Pollo at home this summer. Which was a game changer here. I found a recipe which made the entire thing seem like child's play, because really, the thing that make arroz con pollo what it is, is this magic seasoning in a box - Sazon.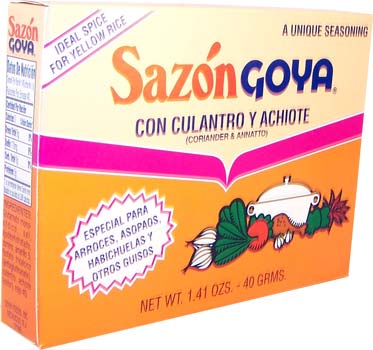 And of course, this little box contains more than one seasoning packet. Which I've been more than happy to make use of. I've started arroz con-ing on a near weekly basis. Almost anything I can get my little hands on because it's just that easy - make a sauce with tomato sauce and sazon, add rice, add protein of choice. It works just as well with chicken as it does with shrimp or pork.

Now that I shared with you my secret of how easy this dish is, I'll tell you a way to make it even easier - use pre-cooked meat! Which makes this a fabulous way to use up leftovers (anyone still have turkey in their fridge? Arroz con pavo!). And if you want to go even easier than pre-cooked meat, use precooked meat someone else cooked! I love some of the prepared meats at Trader Joes - their potroast, pollo asada, and most especially carnitas. I picked up a package of their carnitas, used a fork to pull it apart (okay, I'm not going to lie - I pulled it apart with my fingers, but if I were serving this for company I would most certainly use a fork) and threw it in with my rice. Voila - arroz con carnitas!

Arroz Con Carnitas
3 Tbsp canola oil
1 cup tomato sauce
1 packet Sazon
2 bay leaves
1/ tsp cumin
2 cups of uncooked rice
4 cups water
salt and pepper
12 oz cooked carnitas, fork-pulled
Heat oil in a dutch oven over medium heat.
Add tomato sauce, Sazon, bay leaves and cumin. Cook for 5 minutes.
Add the rice and cook for 1 minute.

Stir in the water. Season with salt and pepper and bring to a boil.
Boil for 10 minutes, then lower heat and simmer for 25 minutes.
Stir in the carnitas and heat until the entire dish is warmed through.

Scalloped Corn

(From the Fannie Farmer Cookbook)
3 Tbsp flour
1 tsp salt
1/4 tsp paprika
1/4 tsp dry mustard
pinch of cayenne pepper
3 Tbsp butter
1 small green pepper, chopped
1/2 onion, chopped
1 cup milk
2 cups corn kernels
1 egg yolk, slightly beaten
2/3 cup buttered bread crumbs
Preheat oven to 400. Spray a baking dish with baking spray. Mix flour, salt, paprika, mustard, and cayenne pepper in a small bowl.
Melt the butter in a skillet, add the green pepper and onion and cook until soft.
Stir in the flour mixture and cook, stirring for 2-3 minutes.
Add the milk while stirring. Bring to a boil
Stir in the corn and egg yolk.
Spoon into the baking dish and sprinkle with the bread crumbs. Bake 25 minutes.