In the spirit of "let's get as much us time as possible before baby comes," Thatboy and I headed out last night.
It wasn't really a "night on the town" as we purposely avoided nightlife. Instead we headed to a not-so-secret little hideaway in our own backyard, the Grand Del Mar.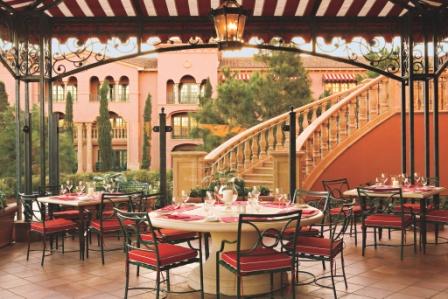 The Grand Del Mar is modeled after an Italian Villa and Amaya follows suit with red and white striped awnings and curving staircases. We sat outside, watching the sunset over the manicured lawns.

After dinner we walked along the grounds. We stood and looked out over the hills, which looked as though they were painted in every shade of blue. We walked through the fountains and gazebo, and then through the hotel itself, stopping to sit in the library and journey through corridors.

And there was of course a bathroom trip - one of the nicest bathrooms I've ever been in. How fancy was this bathroom? Instead of paper towels, there were handtowels to dry your hands with.

It was such a lovely peaceful evening where we got to enjoy each other's company. We came home very relaxed, which is a perfect mid-week break.

Last post I promised you the fried rice recipe, which works out well since I obviously didn't make dinner while we were dining out.

Fried Rice
1/2 Tbsp canola oil
1 cup cooked rice
1 egg, beaten
1/2 cup chicken broth
1/2 cup of your favorite veggies
1 1/2 Tbsp soy sauce
Heat oil in a pan over medium heat and add the rice. Cook for 3 minutes and then push to the side of the pan.
Add the egg and scramble in the open space and stir into the rice.
Add the broth, vegetables, and soy sauce. Bring to a boil.

Remove from heat and let stand 5 minutes before serving.